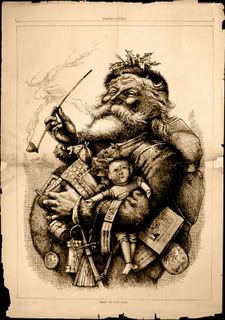 Can you think of a better way to celebrate the birth of one the humblest, and wisest people in the history of mankind? Right now we lie to our children about a supernatural being, we lose ourselves in fits of mass consumerism, and pump out ungodly amount of the Devil's Loaf, commonly known as fruitcake.
What better business manuver than to coax us into spending all our money at the end of the final financial quarter. Jesus wants you to give gifts, and they better be good for goodness sakes. According to my friend Dash Eye, a student in historical Jesus studies, it's accepted that Jesus' birthday was more along the lines of March 16th. So why do we celebrate the birth of Son of God of December 25th?
These guys have a theory.
I'm not sure if everyone is celebrating God around this holiest of holidays, but I sure get tired of Christmas songs. As soon as Thanksgiving is over, we are bombarded by Alvin and The Chipmunks' Christmas joint. I came across Barry Gordon's "Nuttin' For Christmas" for the first time the other day, and thought it was pretty dope. The tune is from the late 40's, and pretty funny. Alot of versions of this song were recorded, but Barry's version is tight! I think a better way of celebrating the birth of Baby Jesus, is to make a remix and give it away in the spirit of Santa Claus.
Ho Ho Ho, Stop Snitchin'
Barry Gordon-Nuttin' For Christmas (UNITE REMIX)