Yesterday I took part in the 420 Cup. A local version of the Cannibus Cup, held in good old Ocean Beach. While I spun tunes for 3-4 hours, I had to judge 7 strains of the bombest herb I've touched this year. While I voted for the Godzookie strain (I shit you not, it's really the name), some other strain won the cup, and not suprisingly I can't remember the name of it. Seedless Clothing pulls through some crazy shit sometimes.
Then I played a party till 4:20am at the Chinatown lofts with the Voz Alta Family. Cumbias, Hip-Hop, Reggae, and mad spliffs were going down. These cats really know how to have a good time.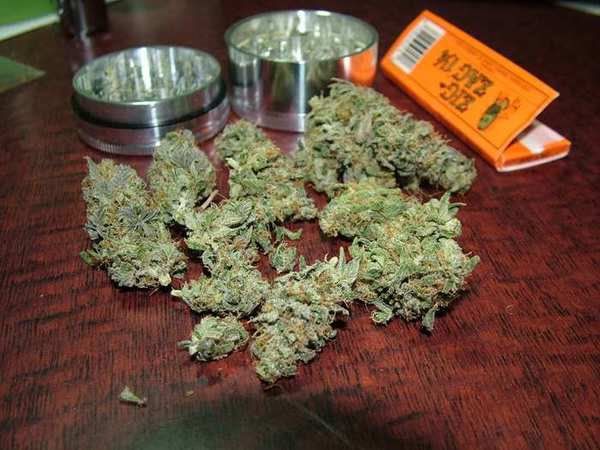 For this months installment, we are going to step away from the world of Reggae music for a minute, and go back to a time when I was learning to roll blunts, learning the difference between High Grade and Low Grade, and listening to Weed Anthems. When I was a Junior in High School, I attended the Soul Assassins Tour, at Starlight Bowl in San Diego's Balboa Park. My partner and I found a sack of Chronic on the floor, saw Funkdoobiest, House Of Pain, and Cypress Hill. I seem to remember at the end of the show, everyone rushed the floor area, people started rushing the stage, and I saw Everlast put his big ass shelltoe in someones face. Great show.
Here are some of my favorite herb tunes from the era.
Cypress Hill-I Want To Get High
Cypress Hill-Stoned IS The Way Of The Walk
By far one of my favorite Hip-Hop groups of all time. West Coast Stoner Gangster Music from LA. The first two albums were the soundtrack to my High School movie. Produced by DJ Muggs, who is a Grandmaster of the SP 1200, the beats have the eerie crunch of the samplers low bit sounds, and give the album the ultimate Stoner Rock punch.
RBL Posse-Dont Give Me No Bammer
Around this time, I only knew Mexican herb, with the exception of what people called "Skunk". After I started getting my hands on better herbs, people started calling it the "Chronic". Money was not in abundance, but I began to see the big difference between High Grade, and Bammer. Bammer was what was affordable, and it was everywhere. Now, I won't even buy herb if it's Bammer. I'd rather not smoke.
DJ Quik-Tha Bombudd
This is one of the first Hip-Hop Herb Tunes I can recall, and invokes a likkle Reggae vibe. Very much a novelty tune, I had no idea at the time that the herb I was smoking while singing along to this tune was not the Bombudd. Actually, I was smoking Bammer.
The Pharcyde-Pack The Pipe
If any group out here on the West Coast was an indicator of the changes inHip-Hop to come, The Pharcyde was it. Real Hip-Hop from Los Angeles that didn't have to be Gangster to knock. Bizarre Ride II The Pharcyde was always in rotation, and evokes so many old memories when I hear it. Pack The Pipe, and toast to the good times.
The Alkaholiks-Mary Jane
Before we move away from the West side, I can't move on without dropping the Liks on here. True, the first album "21 & Over" evokes more memories of Malt Liquor in the park, that memory is not complete without the smell of Herb burning in the air. In the spirit of Rick James, the Liks deliver their love song as an ode to Marijuana. Their first album is by far their best, and still holds firm as one of my favorite Hip-Hop albums of all time.
Redman-How To Roll A Blunt
The East Coast herb movement, if nothing else, spawned the worldwide Blunt phenomenon. When Redman was featured in High Times, with a tutorial accompanied my step by step pictures on how to roll a blunt, everybody and their mom was trying their hand at it. All the cheap cigar manufacturers found new life, in this young market that really had no need for the cigars guts. Redman has mad herb tunes, and I could post a whole entry on just his Herb tunes. Certified Herbman Classic.
KRS-One-I Can't Wake Up
This tune, from the Teacha KRS-One, is not so much a tune singing the virtues of smoking herb, it's more of a play on the imagination. KRS's little anecdotes for each hip-Hopper of the day lends extra laughs to this already comical concept. Pure Classic.
Channel Live-Mad Ism
One more for the BDP Posse. This time KRS is alongside Lyricists Channel Live. Once again, all we do is Spark Mad Ism.
420 Bonus Chune
Black Sabbath-Sweet Leaf
Nuff Said...