Now that I've settled back into my cozy house in Daygo, I'm finally getting around to my photos. Please bare with me with the amount of pics, and lack of tunes.
Truckee
Truckee is a community that lies along Lake Tahoe in Northern California. The mountain men and women made their way out, and were a pretty wild crowd. When I first rolled in, I couldn't believe they were about to squeeze 1500 people in this "Theater", but it filled up and cracked off.
Pepper rocking out.
This is Bubbler. A veteran keyboardist, that plays with Sly & Robbie. Bubbler has played keys on many important Reggae tunes, including the opening keys on Althea & Donna's "Uptown Top Ranking".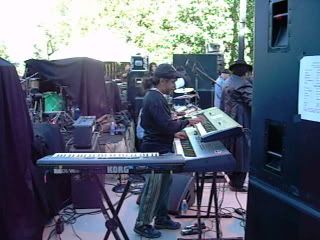 Butte, Montana (That's BEWT not Butt)
I woke up, not knowing to expect of Montana. When I exited the bus, we were on this block which looked like a run down ghost block from the 20's. Our show was in an old Railway station, that was transformed into a venue. The inside of the depot was converted into a dancehall/concert hall and we set up outside in the parking lot. Since I am an avid freight graff lurker, I took this time to walk the line and check it out.
Caught a Sever piece, circa 02
No train lurk would be complete without catching a hobo tag by the one and only Solo Artist. "Widely Unknown Indeed".
Some good old Montana rebel graff.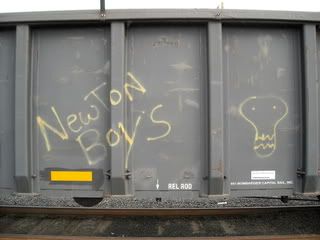 Cherinne Anderson blessing the Butte crowd
Kaleo. Guitarist for Pepper.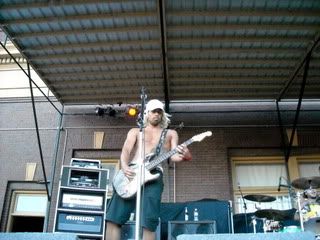 Brett. Bassist for Pepper.
C Money and Dela, the horn section for Slightly Stoopid. THis was the first session I saw where Sly and Robbie joined the boys onstage with Half Pint.
My bredren Alkebulan was telling me that this kind of show would make no money in Jamaica because the fans would park outside and stand on top of their cars to watch. I guess the same holds true for Butte.
As we rolled into the Red Rocks Amphitheater in Colorado, we were expecting this to be the peak of our tour. Unfortunately, it was raining and cold when we arrived. SLEET even. I walked the bleachers to get a view of the place, and it's incredible. Mad music legends have graced this natural amphitheater, including U2 when they filmed their live DVD.
Half Pint with Slightly Stoopid doing soundcheck.
Sly Dunbar.
About 10,000 people in attendance. Due Paid.
This is the most folks I ever played in front of, yet my favorite part of the show was the after party. I loaded my rig into the trailer, and made my way to a dressing room 3 flights above the stage built into the rocks. With only about 4 people in the spot, I immediately spotted Half Pint on the mic by himself, singing over Studio One versions. Within minutes the whole place was packed, and ramming as the mic got passed around and everyone was dancing. Peter Gayle, Half Pint, C-Money, OG, and myself traded mic duties, and the place got hot! (Didn't have no time for flix)
Salt Lake City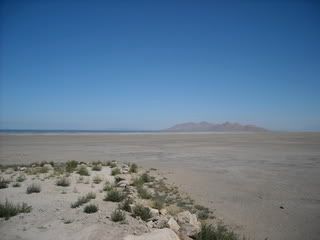 What a f'n wasteland. Smells like rotten death, overrun by mosquitoes, and hot as shit. (The city is nice though.)
Don't be fooled, this isn't the beach you're used to.
The Great Salt Air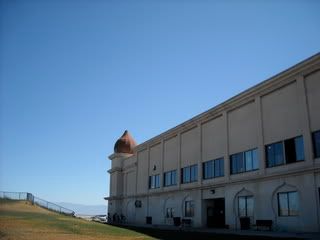 Sly said he likes to sit low on his kit, because it feels like he's driving a race car.
Robbie Shakespeare, Nambo Robinson, and Stepper
The crowd at the Salt Air
New York City
We pulled into Secaucus NJ, and I immediately jumped on transit, and headed into the city. I met up with my boy Jay, and he took me on a Dutch Master clouded tour of the Lower East Side. We ate at Kate's Diner, which is one of the wickedest Vegan diner I ever been to. They must have been fimling some show, cuz the block was filled with 70's cars, including this fuzz cruiser which was even manned by some 70's looking Detectives.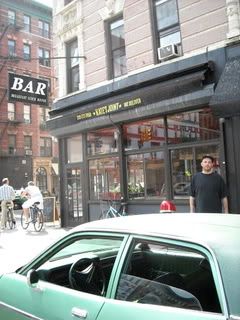 I had the open faced Ruben, equipped with Vegan Corned Beef, Kraut, and Vegan Cheese. This place was off the hook, and they even had an ajoined bar. A Class!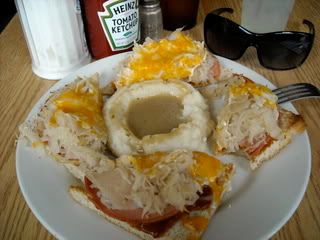 Here's some other flicks I snapped
OG Jammy's Dub Plate. Apparently while digging for records, you can find these around town. WICKED!
This dude Curtis was up pretty thoroughly on our route.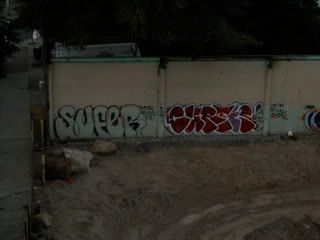 We trooped across the Williamsburg Bridge to Brooklyn for tourist sakes.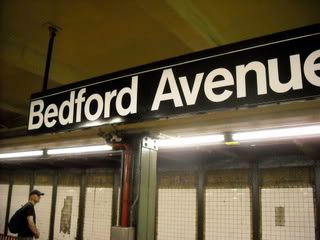 We made it to a bar that served 32 oz. beers in styrofoam cups, and strolled around and smoked blunts.
We ended up at a bar and checked for DJ Queen Majesty, and ran into my boy Jon Cardiel. Small world.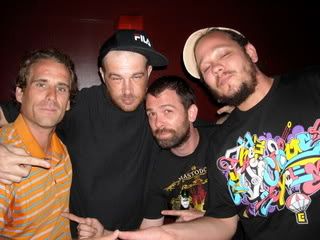 After hitting Max Fisch's, I hit car service (way better than a cab) and stumbled into the bus about 5am, which was parked outside of Roseland Ballroom. The show was the next night and was pretty slamming! WE trooped around the tunnels below the historic venue, and blew some more Dutch's.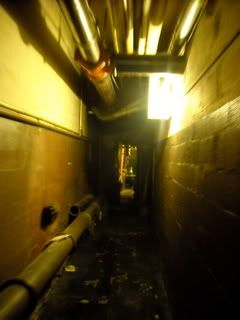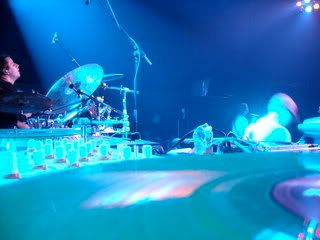 After the show, I made a solo mission down to Times Square, and soaked it in for a minute. The place is sensory overload, with more blazing advertisements than I've ever seen in 5 blocks.
Thats enough for now. I will finish my tour log with my next entry.
Big Up Jay for taking time our of your hustle to show me the city.