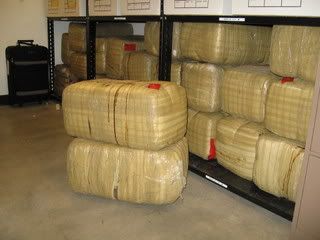 So far 2008 has shown me plenty of love in the Herb Arena. I may be spending the rest of the year trying to find a strain that can top the "Headband" strain I kicked the year off with. "Headband" is supposedly a hybrid from Sour Diesel, and Kush. East Coast meets West Coast, and it wraps around your brain like a Headband, apparently.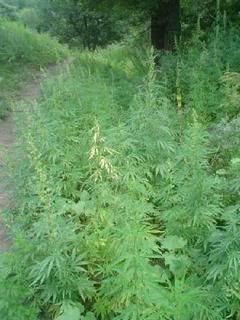 This will be the first of 12 installments this year, concerning music (mostly Reggae) dedicated to Marijuana.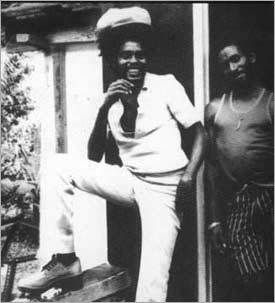 Max Romeo-Quarter Pound Of Ichense
Max Romeo started his career on the Rude Boy, Rock Steady tip. As times and trends were changing, Max Romeo was linking with Lee "Scratch" Perry for sessions that would unltimately define his career. While his most heralded work with Scratch was "War Inna Babylon", many other tunes from the Black Ark sessions with Romeo are top notch. This tune is availale on the compilation
Open Up The Iron Gate
Linval Thompson-Marijuana
Linval Thompson is a Legendary Reggae singer, as well as producer and owner of "Thompson Sound" label. This tune has got to be an International Herb tune, skipping through thoughtful metaphors, and getting straight to the point. I Love To Smoke Marijuana. The album, "I Love Marijuana" was recorded at Channel with the legendary Drum and Bass duo Sly & Robbie. Linval has mad tunes under his belt, and many quality hits.
Barrington Levy-Sensimilla
Barring Levy requires no introduction. Neither should his monumental album
Poorman Style
. Another Linval Thompson production, featuring the legendary Roots Radics band at Channel One. This is just one of many wicked Barrington Levy tunes about weed, which will indeed follow.
Welton Irie-Chalice
Welton Irie is a hard, hard Deejay whose career made the most noise during the late 70's, early 80's. He was originally partnered up with the legendary Lone Ranger to record with Coxsone Dodd at Studio One. Welton's dues were paid on classic sounds like Echo Sound, Gemini Sound, and Virgo Sound. The album that features this tune,
Reprobate
features backing by Roots Radics, and mixed by Dub Reggae legend Scientist. Welton flips a wicked stutter delivery of his Herb enduced chorus, over a solid version of the Full Up Riddim.
(I was looking for a picture of a Telephone Chalice, if somebody wants to kick down)
Frankie Jones-Don't Smoke The Seed
I can't say I have much knowledge of Frankie Jones, other than the 4 Showdown, or Two Artist Clash, albums. He has released those alongside artists like Pad Anthony, Johnny Clarke, Patrick Andy, and the album featuring this wicked weed tune with Micheal Palmer entitled "Showdown Vol. 4" on Hitbound label. Roots Radics once again lay the foundation for a solid Roots Reggae album, in an early 80's dancehall style.
Blaze it!