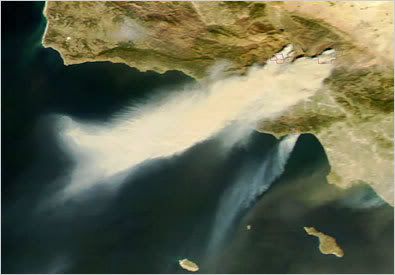 As the sun went down last night, the sunlight was a crazy amber glow. Today the city smells of smoke, and light ashes are beginning to rain.
This don't look good at all!
I already got friends and family that have been evacuated from their homes. As it stands, there are very little resources out here left for anything but the fire, so they've told folks to stay off the roads. If you get in an accident, you are fucked.
1000 fire trucks from outside the county are on their way out here right now, and people are all stuck to the television trying to figure out which area is next...
Currently they are evacuating the area between the I-15 and the I-5 from the 56 to del dios highway. Thats hella west!
Escondido is evacuating, Ramona has been burnt to the ground. Rancho Bernardo is burning and outer parts of Poway. Pomerado hospital has been evacuated as well. To those who are not familiar, thats the northeastern most part of the county.
But thats just one fire.
Far east county is also blazing, and a fire from Mexico has started to ravage southern parts of the county.
Interstate 15 is completely shut down, Qualcomm Stadium is open for those seeking refuge from the fire, and I feel damn lucky to live a block from the water!
Any of my people in the city, if you know me and need shelter, get at me. Even though the conditions are ripe all over for fire, we will be letting the chalice blaze over here as long as the trees are available.
My prayers go out to all the victims of this tragedy!